Every Kitchen Needs One Of This!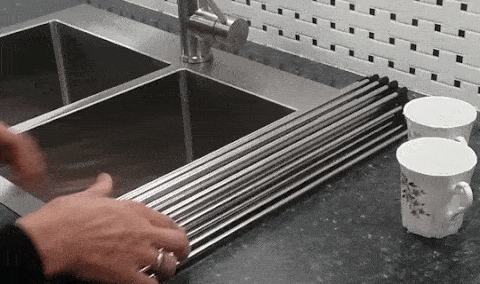 This Roll-Up Sink Rack is a MUST-HAVE kitchen tool. Just roll out over any sink, and when you're done with it, you can simply roll it back up and store it away in the cupboard or drawer, saving you valuable counter space.
FEATURES
HIGH QUALITY - It is made of food-grade stainless steel rods with silicone rubber which guarantees its long life and makes the rack organizer durable and non-slip.
KEEPS WATER OFF YOUR COUNTERS - The roll-up sink rack is designed to be set over a portion of your sink, allowing the dishes to drain allowing you to continue using the sink. Designed to securely hold delicate glass stemware as well as large and bulky cookware. Rolls out to fit neatly over any standard-sized kitchen sink.
MULTIFUNCTIONAL - Not only can you dry dishes on it, but you can use it as a colander to wash fruits and veggies when prepping meals. You can place hot cookware on top of it if and use it as a Trivet and counter protector. The simple and practical design will blend into whatever kitchen type you have.
HEAT-RESISTANT - This sink rack can withstand up to 400 degrees F. It is thermal resistant and can be used for hot pots and pans.
EASY IN USE & CLEAN - Folding, multi-purpose, stainless steel sink rack is easy to clean and is rust-resistant which lets you wash the rack in a dishwasher.
SIZES
Small - 330 x 370 mm
Medium - 330 x 470 mm
Large - 330 x 520 mm