PREMIUM KIDS SMALL CANDY CLAW CRANEMACHINE TOY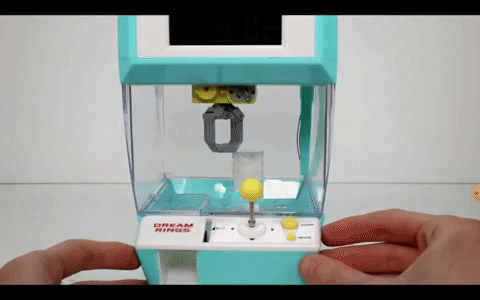 Looking for a unique toy that is both interactive and compact? our claw machine was made to liven up your child's playroom with its beautiful design and fun gameplay.
Not only does the crane machine function as an alarm, but it can also work like how a real-sized arcade version. All that you have to do is to drop a coin into the claw machine toy and you'll be able to start the game!
With prizes already included, you won't have to worry about sourcing your own. This way, you and your child can bond together by trying to capture as many prizes as you can from the mini claw machine.
Better yet, the candy claw machine comes in two different colors that will blend perfectly with any playroom. Have your very own arcade in your home by powering up the small claw machine for a great bonding experience with your child.
FEATURES
ALARM FUNCTION – Have an early start of the day by setting the alarm function on the kids' claw crane machine to wake you up in the morning. It also displays the time on a wide LCD screen so that you're always updated.
INTERACTIVE – Our claw machine is more than just a cute display piece that you can place on a tabletop or shelf. You and your child can also play a fun game of capturing prizes which can both be challenging and exciting!
SUITABLE FOR KIDS AND ADULTS – Not only is the crane machine fun for kids, but it is also very useful for adults too! Keep a claw machine toy in your room for times when you need an alarm and a quick and fun activity.
SPECIFICATIONS
Size: 4.9 in x 4.9 in x 7.4 in.
Battery: 3 * AAA 1.5 V batteries (not included).
Material: ABS, metal
PACKAGE CONTENT
1x Mini claw machine