RE-PLANT EASILY?& HARVEST MORE!

Get a greater chance of growing a healthy new plant with the? Plant Rooting Box!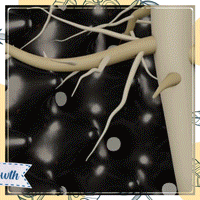 The?Plant Rooting Box?greatly helps inair layering propagationfor a?healthy new plant?growing. It promotes2x faster root growththan when cutting off stems and growing them on plastics so having thisreusable growing boxwill definitely help as many times as needed!
FEATURES:?
Grows Plant Quickly
Quickly grows new plants by generating new roots from your plants or trees stems with a lesser chance of rotting.?

Air Layering Propagation:
Promotes a better new plant survival rate than when you cut off the stem and wait for the roots to grow.
Easy to Re-plant:
Open the prepared rooting box to moving your plant easily!

Easy Steps:

Reusable Growing Box:
After growing a ball of roots, you can reuse the growing box!
SPECIFICATIONS:
Materials: PVC
Color: Black
Size: 8cm x 8cm (Plant Stem Size: 7mm-12mm)