LOOKING FOR THE BEST TELESCOPE TO INTRODUCE YOURSELF OR YOUR KIDS TO THE BEAUTY AND INFINITY OUT THERE?
Explore the cosmic splendour with this beginner's astronomical telescope. Witness the deep sky objects and remote terrestrial life with this Best Beginner Telescope.
meets all the needs of beginners, and the kids' astronomical journey begins from here! Even if you are just a beginner, amateur or professional, our Telescope For Kids, Beginners & Adults With Stand is easy to use the telescope that can be mastered within a day.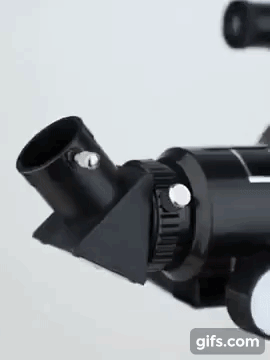 Setting up the telescope is a breeze, so you can begin observing in no time. Even on your first time out, you can assemble the telescope and its accessories in just a few minutes. The adjustable tripod legs allow you to customize the telescope height or place it on raised surfaces like a picnic table. The Telescope comes with a Travel backpack – a custom backpack comes with your telescope for you to store your optical tube, tripod, eyepieces and accessories comfortably.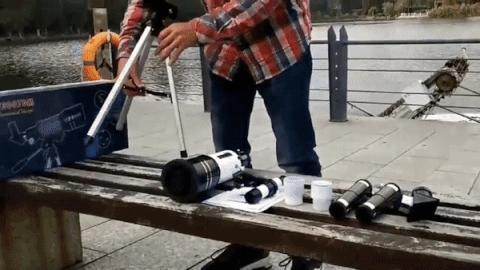 Our Telescope for Kids and Beginners is an amazing tool to magnify the sky, introduce the love of astronomy to children or adults. Its high-quality objective lenses offer excellent contrast and brightness of view image of the night sky. It helps them to promote creativity while having a fun time.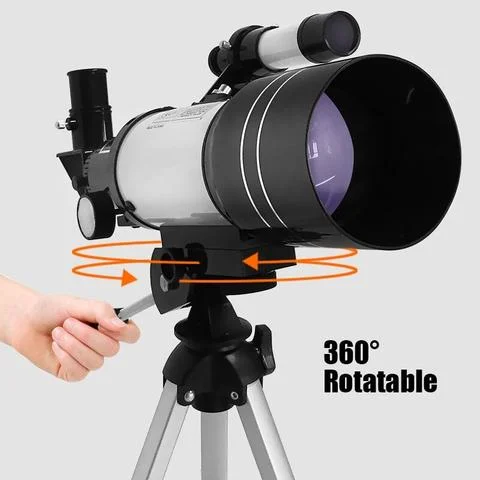 70mm aperture and 300mm focal length provide more lights and clearer images

Best Gift to give on birthdays, holidays and special occasions to children and passionate stargazing adults.
FEATURES:
Astronomical telescope refraction with 70mm aperture and 300mm focal length.
More interchangeable eyepieces with 1.5X erect eyepiece and 3X barlow lens for greater vision.
Easy assembly without the tools required.
150X maximum magnification brings the distant landscapes to your eyes.
Real working telescope made for kids. This lightweight telescope with all-glass optics up to 150X magnification is perfect for on the go celestial and terrestrial explorations.
Glass optical components with high transmission coatings for enhanced image brightness and clarity.
BEST Telescope for Kids & Beginners: telescope meets all the needs of beginners, and the kids' astronomical journey begins from here! Equipped with 3X Barlow lens and two eyepieces, H20 mm and H6 mm.
Large Aperture: 70mm aperture and 300mm focal length provide more lights and clearer images, even beginners can get clear images. The bigger the aperture, the bigger the field of vision, and the clearer the image.
Wireless Control: telescope set includes one smartphone adapter and one Wireless camera remote to explore the nature of the world easily through the screen and take amazing images.Astronomical telescope refraction with
Easy to assemble & dismount: We have a full set of paper and video Installation Guidelines. Don't worry about any installation problems. Even for first-time users, kids & beginners can install it themselves without any tools.
Aluminum material, Light and Portable.
Tripod for height adjustment, quick and easy to set up, telescope easily removed for hand held use.
It is helpful when at sporting events, under the night sky.
Our telescope for kids is a great way to open up the wonders of the universe to the aspiring astronomer.
The telescope angle is adjustable according to your needs.
Tough material, lightweight and durable, good gift to begin your child's nature science exploration journey as an little astronomer.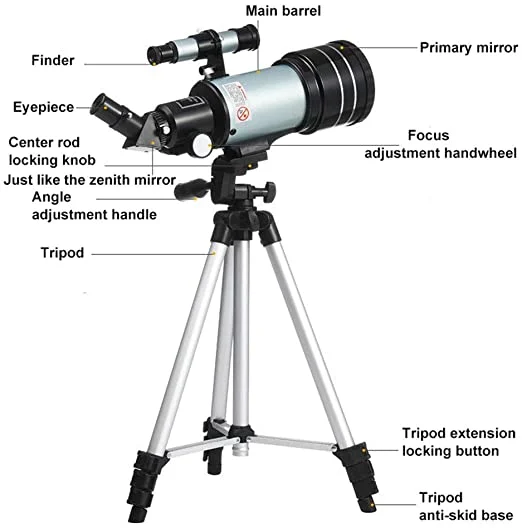 INSTALLATION STEP
1. Put up tripod, then attach the lens tube.
2. After the tube is fixed, install the finderscope (for preliminary search of the target object), then install the eyepiece (choose one from the two).
3. After find out the big goal, then debug with different eyepieces.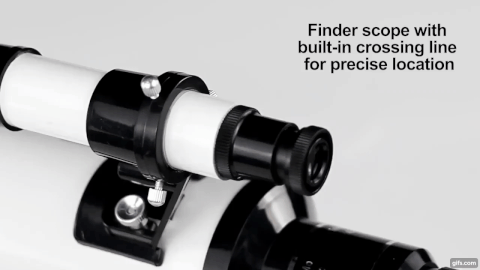 PACKAGE INCLUDED: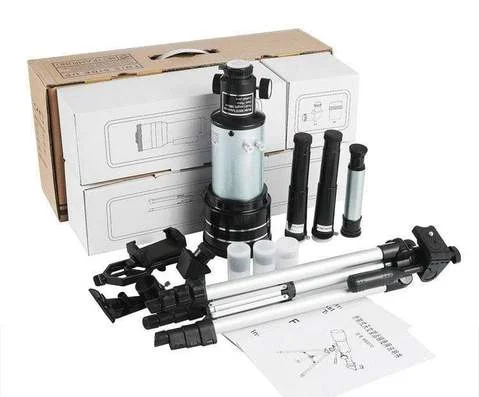 1 piece Telescope Tube
1 piece 1.5X Erecting Eyepiece
1 piece 3X Barlow Lens
1 piece Finder Scope
1 piece Tripod(15inch height)
1 piece H20mm Eyepiece
1 piece H6mm Eyepiece
1 piece Moon Filter
1 piece Diagonal Len